New Patients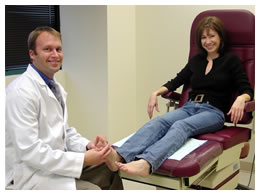 Welcome New Patients!
Click on the links below to access the New Patient Forms. After you click the link, a browser window will open. After it opens, click on the 'PRINT' icon on your Browser. After the forms print, fill them out and bring them to your first appointment. Completing the New Patient Information Forms will save you time on your initial visit!
Please bring your insurance card. We will need a copy of it for our records. If your insurance plan requires that you have a referral from your primary care doctor, please make sure you obtain one before your appointment.
What to Bring to Your Appointment
If you are a first-time patient, please plan on arriving early to complete the new patient form. Or see below to download the form now. Please bring the following items to the appointment:
Insurance card(s)
Referral forms (if required)
List of all prescription and over-the-counter medications that you are currently taking
Any required co-payment
Pertinent medical and surgical history information
X-ray films that you may have
*You must have an Acrobat Reader to view the Acrobat files. If you don't already have Adobe Acrobat, you can download the Acrobat Reader Free.