Our Doctors - Jaryl G. Korpinen, D.P.M.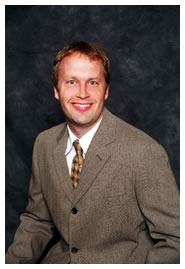 Dr. Jaryl Korpinen graduated from the Austin College with a Bachelor of Science degree in Biology and a minor in Chemistry. He then attended the California College of Podiatric Medicine in San Francisco. During his education, he had the opportunity to work at the Veterans Hospital in San Francisco and treat Marines at Camp Pendleton in San Diego. After receiving his degree in Podiatric Medicine, he completed a surgical residency at the Harris County Surgical Residency Program in Houston. Upon completing residency in 2001, he began private practice in Plano and has since expanded to McKinney.
Dr. Korpinen is Board Qualified and an Associate of the American College of Foot and Ankle Surgeons. As a former collegiate basketball player, he has a special interest in Sports Medicine and is a member of the American Academy of Podiatric Sports Medicine. He routinely discusses foot problems on radio stations, various local hospitals, newspapers, television, and works at the White Rock Marathon each year.
Dr. Korpinen grew up in Plano and currently calls McKinney home. He is married and has two children. He enjoys spending time with his family, basketball, golf, and running.